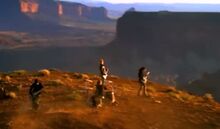 I Disappear is a song by thrash metal band Metallica. The song was recorded as a contribution to the soundtrack of the film Mission: Impossible II, and reached #1 on the Mainstream Rock Tracks. It was also their final #1 on this chart. This is the only song not appearing on any studio album.
The discovery of the song in early 2000 on the P2P file-sharing network Napster helped bring the illegal sharing of mp3 files to the spotlight, leading to the massive lawsuits that eventually brought down the original incarnation of Napster.
The video to the song, directed by Wayne Isham, features the members from Metallica in scenes that reference other movies; James Hetfield is driving a car down a San Franciscan hill, in a chase sequence resembling (Bullitt), Kirk Hammett is on a desert being chased by a plane (North by Northwest), Jason Newsted is in a mansion struggling against hundreds of people that walk by him (Brazil), and Lars Ulrich jumps off a building (Die Hard). The car driven by James in the video is a 1967 Chevrolet Camaro. Upon the video's completion, it was given to Hetfield as a gift. It was later auctioned off on eBay by James himself for charity.
This is Metallica's last studio release featuring bassist Jason Newsted, who left the following year.
A new version of this song was later released on the Metallica release "The Videos 1989-2004" with a more overdriven sound to the guitars and some sections redone.